Home - Success Stories
Here are stories from our the adopted parents who have written in about their new family members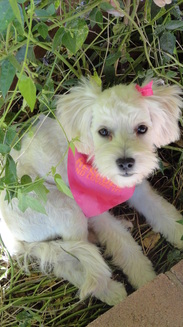 My huband, Doug, and I adopted the puppy you named Noelle in mid-January. We are enjoying her so much and already she is quite spoiled with attention! She adjusted very quickly to our home and it just being the 2 of us to play with, and has been very friendly as she meets our neighborhood dogs on walks.

She went to the groomer yesterday, and has a new haircut, appropriate for her activity level and our warming temperatures. We thought she was bigger; turns out she was all hair!

When we had to make a plane trip to Boise early Feb., she travelled like a trooper in the kennel under the seat, being still and quiet the whole way (and without any medication!) Our grandkids and she had quite a time together; Ginger was wonderful with them. She particularly loved the 3 year old.

She is in a growth spurt and has gotten so lanky. She continues to eat her puppy bits without chewing, but chews on her toys and rawhide strips constantly to help her many newly emerging teeth to come in.

Just wanted you to see her now.

Thanks again for the work you do, and taking such good care of her before we got to have her. We love her!!
---